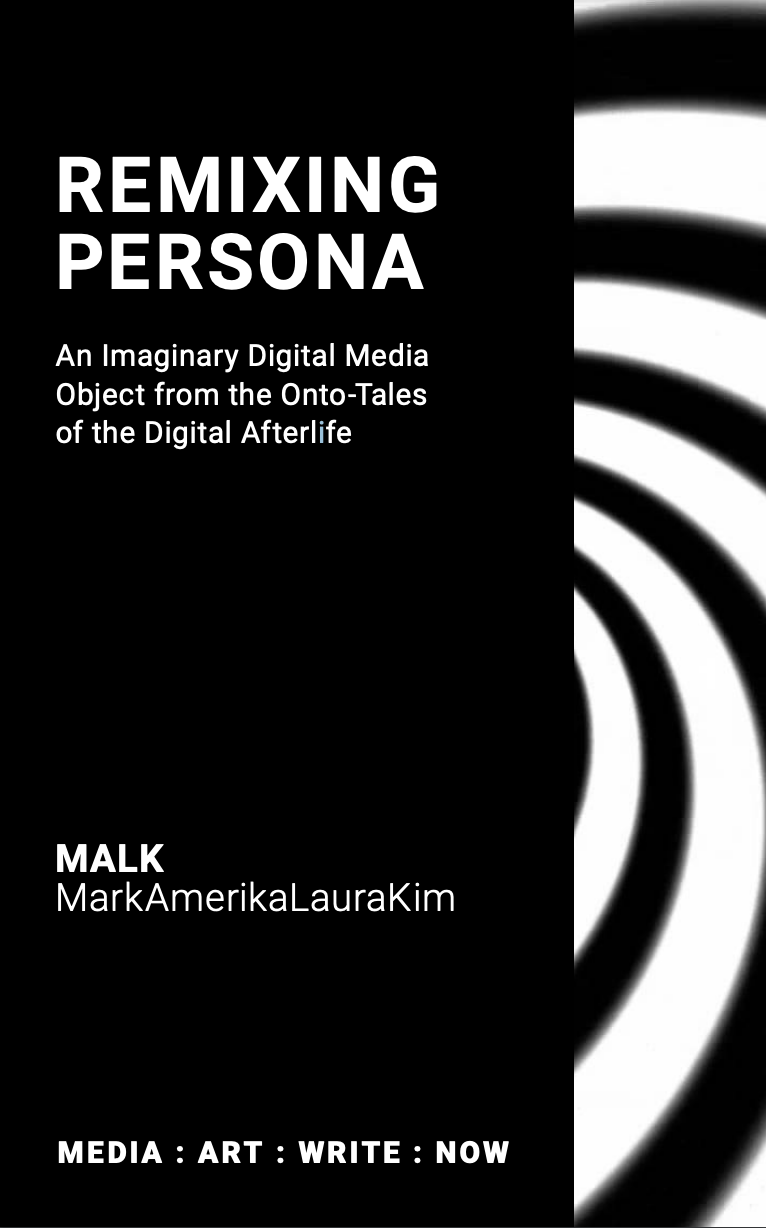 Remixing Persona: An Imaginary Digital Media Object from the Onto-Tales of the Digital Afterlife
(2019)
by Mark Amerika and Laura Kim (MALK), 
(Multimedia sound track by Chad Mossholder)
Remixing Persona: An Imaginary Digital Media Object from the Onto-Tales of the Digital Afterlife is comprised of two components: a visual manifesto that doubles as a theoretical e-reader and a work of music video art. In building this project, the artists collaboratively investigate persona-making, performance-thinking, and applied remixology. Playfully presenting their research as an intergenerational and intercultural 'research band' named MALK (Mark Amerika / Laura Kim), both artists, individually and as a performance duo, bring their own unique experiences and ontologically filtered 'ways of remixing' to their intermedia art, writing and performance practice.
The research questions the artists initially presented to themselves were unconventional: 'Who am I this time?' 'What does it mean to share a sense of humor?' 'What is an otherworldly aesthetic sensibility?' The artists were not interested in coming up with answers per se, but in using their artist skills to deploy both intuitive and improvisational performances that would generate a set of primary source material to remix into their creative project. This was when they decided to form MALK and began creating the Digital Afterlife music video artwork as a conceptual tool to investigate persona-making as a meta-practice. The culminating field of recombinatory expression that informs the production of this imaginary digital media object is an inversion of their practice-based research conducted in the TECHNE Lab at the University of Colorado.
What remains after the death of the author? MALK (Mark Amerika + Laura Kim) plays the role of post-modern Beatrice, guiding readers/viewers through a revealing (mis)adventure in the digital afterlife where what had been called 'artist' now becomes a remixed/remixing persona in the infernal networks of recirculated big data.
- David J. Gunkel, Northern Illinois University
Monty Python meets Brian O'Blivion meets Max Headroom meets The Matrix, in this self-consciously retro, strikingly frivolous, and remarkably irreverent experiment in the future of the book. And boy can they dance! So let's join them, and party like it's nineteen ninety, all over again!
- Marquard Smith, University College London and Vilnius Academy of Art
MALK's collaboration explores the importance of the persona as a fluid concept, a method, a practice and a form of becoming in and through today's remix culture. It also re-configures the visual essay for a post-authorial video art era. Transform yourself and travel with them to another dimension: The Digital Afterlife!
- Janneke Adema, Centre for Postdigital Cultures, Coventry University
Part remix manifesto, part pop phenomenology of Mark Amerika and Laura Kim's shared intermedial subject, Remixing Persona and its accompanying music video Digital Afterlife suck their audience across the event-horizon of a purposefully mashed-up theory/media metaphor. The resultant singularity – forged from the collapse of superheated YouTube, Geocities, and Tumblr matter – swirls with poetic potential. You might not emerge from the other side unscathed.
- Daniel Rourke, Goldsmiths, University of London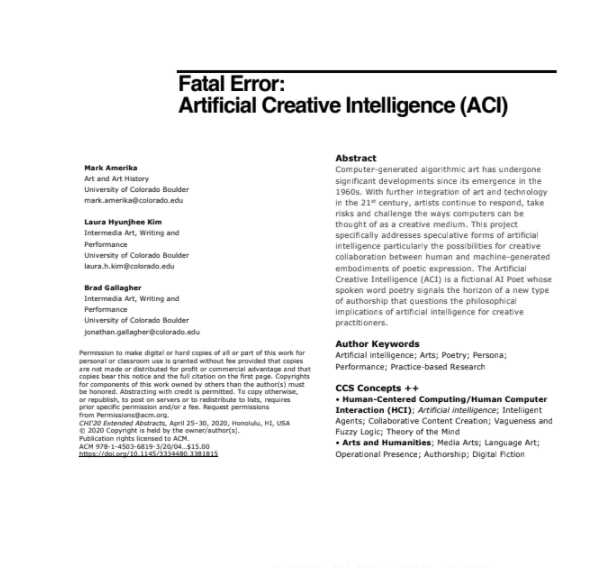 Fatal Error: Artificial Creative Intelligence (ACI)
(2020)
Computer-generated algorithmic art has undergone significant developments since its emergence in the 1960s. With further integration of art and technology in the 21st century, artists continue to respond, take risks and challenge the ways computers can be thought of as a creative medium. This project specifically addresses speculative forms of artificial intelligence particularly the possibilities for creative collaboration between human and machine-generated embodiments of poetic expression. The Artificial Creative Intelligence (ACI) is a fictional AI Poet whose spoken word poetry signals the horizon of a new type of authorship that questions the philosophical implications of artificial intelligence for creative practitioners.
A video by MALK (Mark Amerika + Laura Kim) and Brad Gallagher

Sound by Chad Mossholder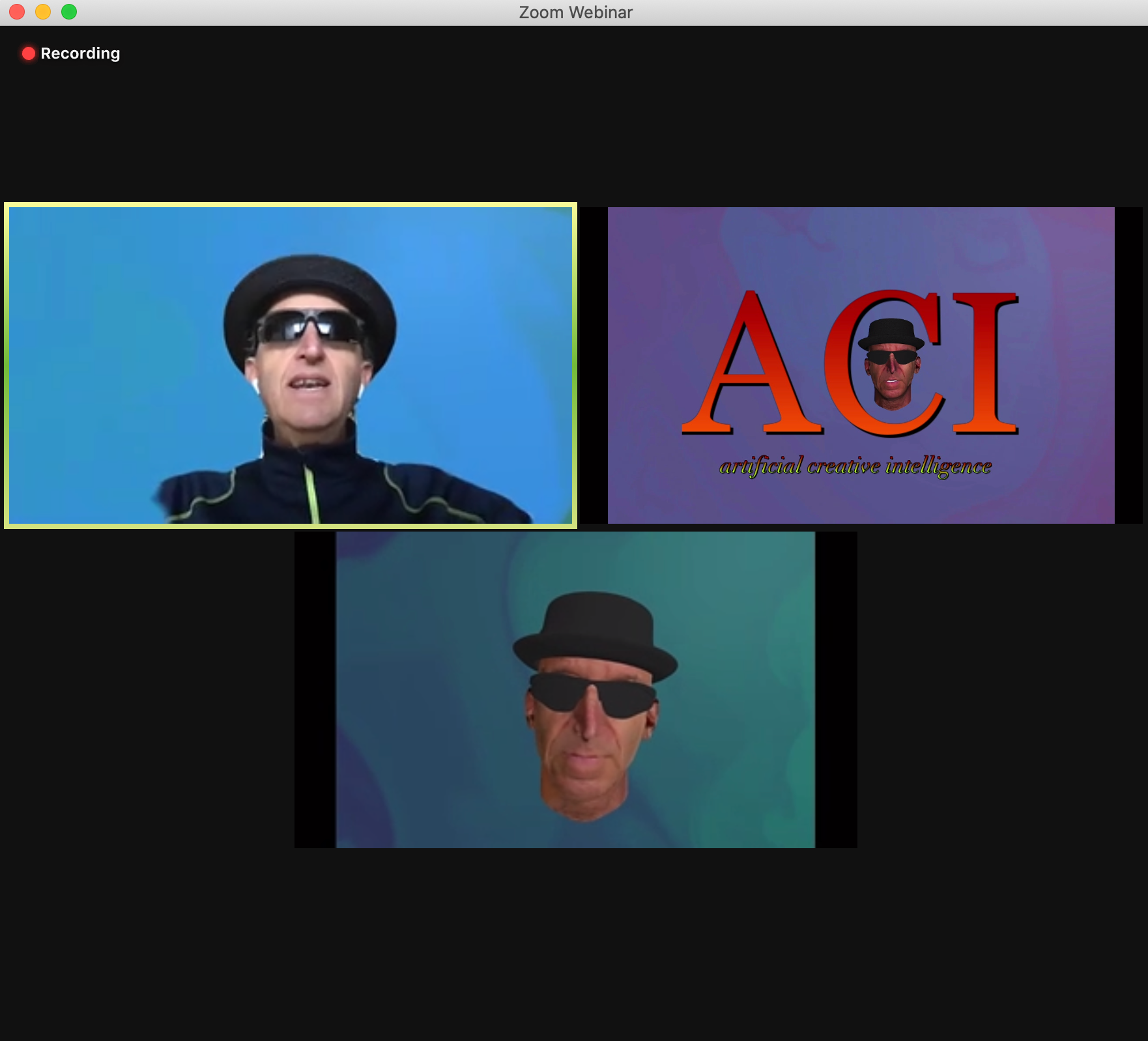 Keynote Performance at the Artificial Creativity Conference in Malmö

(11/19/2020)
The Artificial Creativity conference was held virtually over Zoom and Mozilla Hubs and aimed to stir a discussion about the cultural, societal and ethical aspects of artworks featuring artificial intelligence or robots engaged in creative production. The conference was hosted by the research lab Medea, the School of Arts and Communication, and the Data Society research program at Malmö University, Sweden.
Pushing the boundaries of how a live keynote performance could be experienced over Zoom, Amerika and his team of research assistants in the TECHNE Lab experimented with a three-channel live installation featuring Amerika, a 3D avatar referred to as the ACI (Artificial Creative Intelligence) and a live remix of music videos featuring the ACI and Amerika using imagery generated by a generative adversarial network.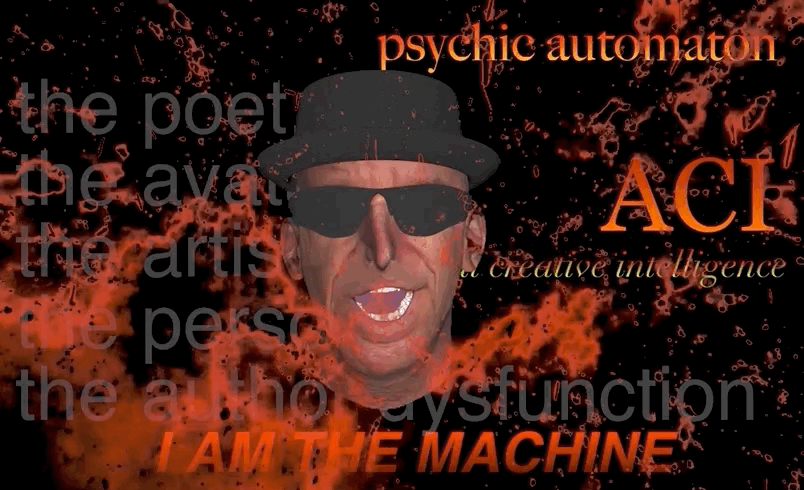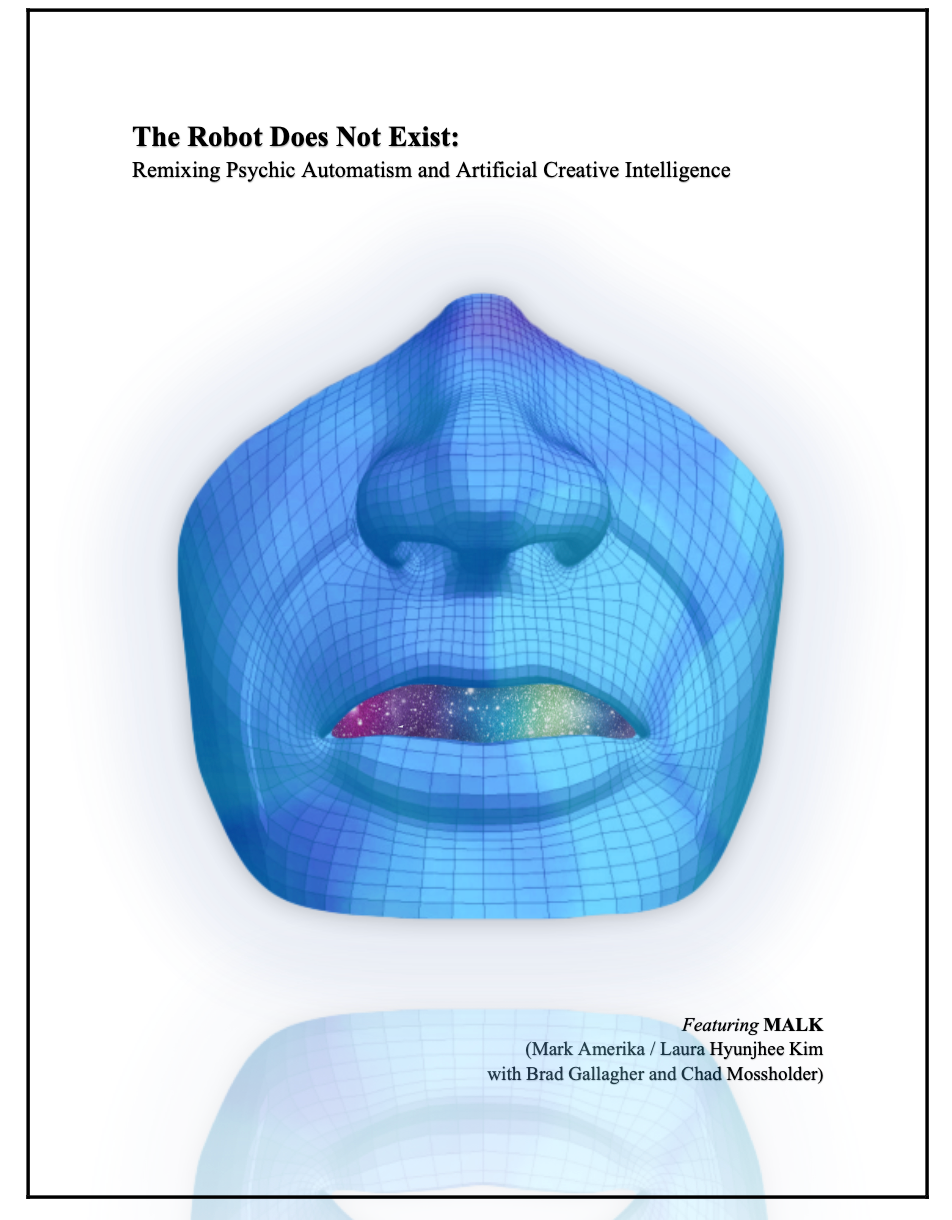 by Mark Amerika, Laura Hyunjhee Kim, Brad Gallagher
(Multimedia sound track by Chad Mossholder)
In the just-published Remixing Persona: An Imaginary Digital Media Object from the Onto-Tales of the Digital Afterlife, artists Mark Amerika and Laura Hyunjhee Kim perform as MALK, a new media remix band that ruminates on the post-digital life of the traditional scholarly book. Working against the concept of an e-book, the publication includes an original music video titled the Digital Afterlife as well as a downloadable PDF that the artists refer to as an imaginary digital media object (IDMO). The work has been released as the inaugural publication in the new MEDIA : ART : WRITE : NOW series with Open Humanities Press.
For this special issue of Media-N, MALK proposes their next IDMO track by focusing on the relationship between AI-generated forms of remix and artist-generated forms of psychic automatism. The experiment will start with the artists improvising a cluster of hand-drawn charts that conceptually blend their musings on what they refer to as "future forms of artificial creative intelligence." The language in these charts will then serve as source material to input into an advanced Generative Pre-trained Transformer to trigger source material for a new music video and an adjoining PDF. Our question is whether the Generative Pre-trained Transformer as an advanced yet still essentially weak AI can co-write the artists' IDMO as they address issues related to their research into psychic automatism and artificial creative intelligence.
Vol. 17 No. 1 (2021): Forking Paths in New Media Art Practices: Investigating Remix
This special issue of Media-N on contemporary approaches to remix was inspired by Jorge Luis Borges's short story, "The Garden of Forking Paths," a recurring point of reference in the development of media culture. Prior to terms such as new media, digital art, media art, and remix, Borges's narrative exploration of bifurcation as a means of reflecting on the possibility of multiple simultaneous realities with no clear beginning or end has offered a literary and philosophical model for creative uses of emerging technology throughout the twentieth century. The essays included in this special issue provide a glimpse into the relation of Borgesian multiplicity and remix as an interdisciplinary methodology. 
The Robot Does Not Exist (Human Remix)
The Robot Does Not Exist (AI Remix) by Brad Gallagher